Just A Girl And Her Fur Babies + Photo Display Tips!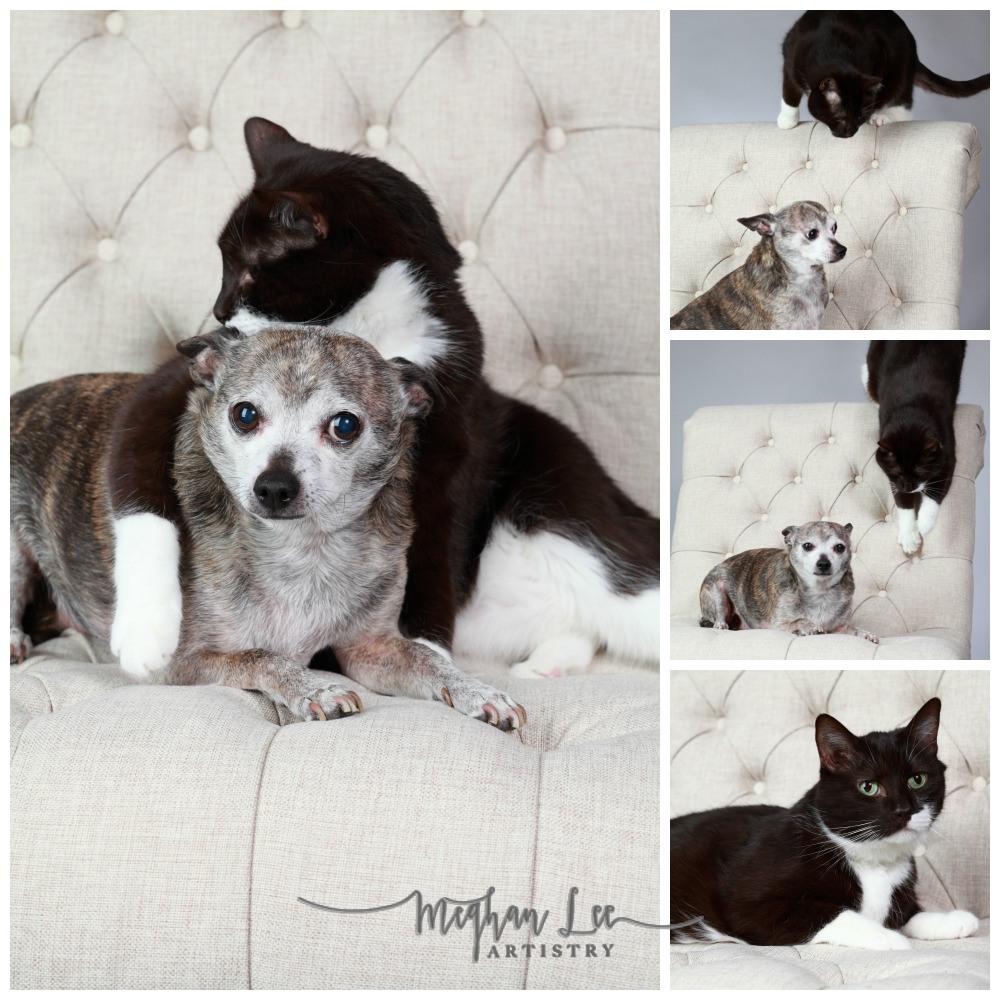 A personal goal of mine for 2017 was to finally create a fun wall collage for our front entry way. A mix of family portraits with some wall sculpture Art of some sort. I always have these big visions for my clients and it was time for me to put my money where my mouth was and create something for my own home. Our entry way wall has been begging for some love and we slapped a little wedding shrine up just to fill in some space when all it did was make our pictures seem smaller.
Like most people my animals were my kids before my actual kid. I still consider them my babes but in a different way now obviously. They are an extension of our family and I can't image life without them.
My daughter Scarlett has now entered the stage of "I have no one to boss around" sooooo anipals you're it! Torque the dog gets told to sit down at least 1 -2x a day by lil miss as well as get in your bed or to just "go" do something. She likes to push her limits a bit more with Dickens the cat with the occasional tail pulling, head butt cuddle and of course he's a great model for her beautiful necklaces.
I don't photograph animals often but I will say if a cat is not in their domain or environment it's pretty trying! Out of all the kids Torque was the most cooperative, such a gem! So before we found the keepers there was lots of bad, hilarious actually! Here are some bloopers!
WINNER WINNER CHICKEN DINNER
I decided to go with a chocolate sepia finish because we already have a large black and white theme in our kitchen area and the color scheme seemed to align with our living room and entry way better. These are all gallery wrapped canvases and are so beautiful! There's nothing like seeing them in person. Torque and Dickens are literally a tad smaller than in real life which is very fun to see.
The wedding shrine to the left is what we first put up just to dress up the wall which was 22.5 x 21. This would have been fine if we paired it with larger printed images that were maybe stand alone images. Now we have made things a lot better with the family story telling on the right. Torque and Dickens are large and in charge coming in at the 24×36 gallery wrap and Scarlett and the 3 of them are 16×20's. I wanted the length to be even with the 24×36. Splash in some mixed media and a new coat of paint and there you have it. A proper entry way display. So happy with how it turned out!
Pro Photo Display Tip: Group your photos in a way that tells a story rather than various "stand alone" images. Meaning groupings should have the same environment, clothes/wardrobe, lighting…here's an example of a stand alone image verses a group story telling images.
EXAMPLE OF A STAND ALONE IMAGE
EXAMPLE OF A STORY TELLING SERIES OR WALL GROUPING
AND HERE IS THAT 8X10 YOU THINK LOOKS GREAT ON THE WALL
For more tips or info sign up and receive my monthly newsletter or email me with any questions you may have!