Let's Get Bewitched | Ashlyn | Class of 2020 Senior Top Model Shoot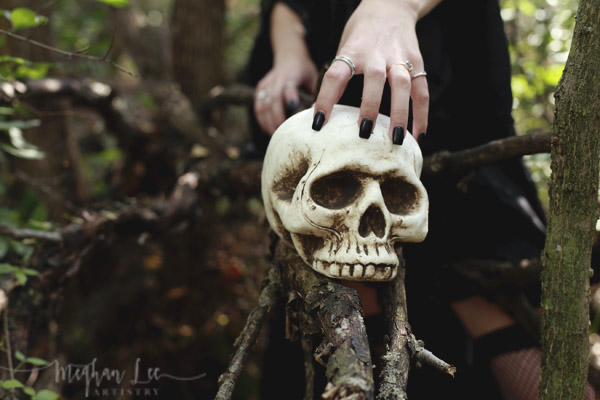 It's the most wonderful time of the year! If you didn't know already I'm a festive fool and love holidays. Halloween especially holds a special place in my heart. There's just something about October…there's electricity in the air, lots of change and anything spooky or super natural has always fascinated me.
When I asked Ashlyn what she was envisioning for her Top Model shoot, October was right around the corner so our minds were on the same train in terms of something festive for the Halloween season. What better character than a witch, horns and all! We started at the studio with hair and makeup and headed into the woods with our spell book and skull (we didn't look suspicious at all 😉
The Class of 2020 Senior Models hold a friendly competition from March – August. Ashlyn was selected as the top model winner for being awarded the most points by simply sharing about her experience as a Senior Model. The top model shoot is nothing like a senior session. It's all about thinking outside the box, trying on a new hat on so to speak or elaborating on a certain interest they have. We get weird and have fun with it! It gives them a creative outlet to try something maybe they would NEVER do elsewhere.
Without further ado, here are our top favs from her bewitched top model shoot!