Mama & Me Mini Sessions | Meghan Lee Artistry | 2018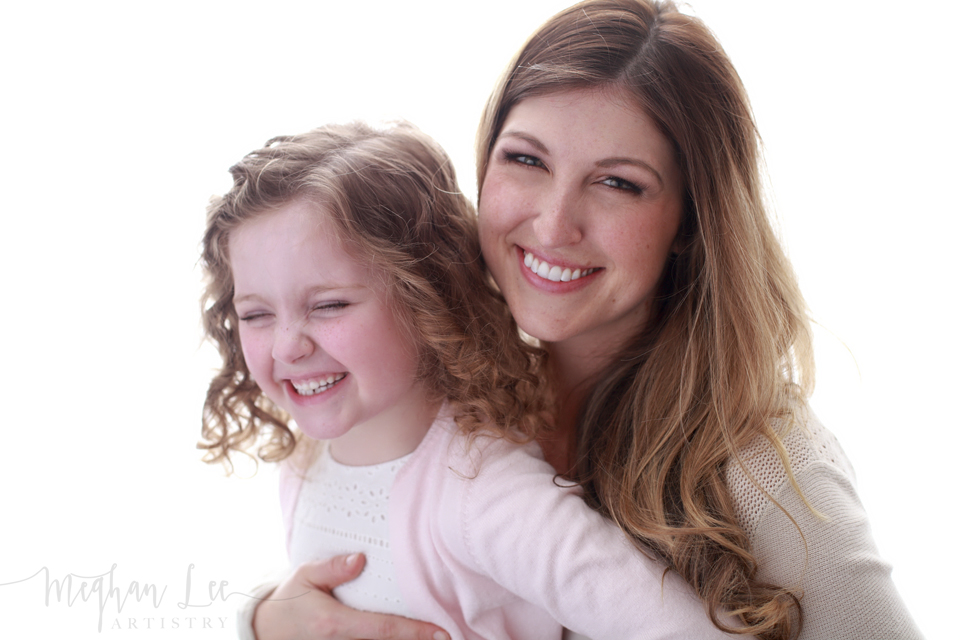 Mother's Day is fast approaching! It's time to celebrate our mamas, wives and daughters. I've got the perfect gift idea for husbands and daughters looking to impress this year and it will last a lot longer than a box of chocolates or flowers.
As a mom I know most of our time is spent behind the camera and it seems we are never in photos with our kiddos besides the occasional selfie. I want moms to feel good and look good with full on pampering during their portrait session.
Surprise her with the gift of a professional portrait session with styling in-studio! I have a Mother's Day Mini Session just for her and even daughters can join in on the pampering too! Of course she hasn't had her portrait taken in years!  Let me help you create beautiful, timeless images of your mom that you know will be cherished! Why?  Because it just doesn't happen that often!  Start the day off with mimosas, makeup and hairstyling followed by a 20 minute in-studio portrait session.
Select between 2 packages and date for your Mama & Me (big kids or little kids) portrait session. (maximum 5 people without additional charge)  I promise to make this such a fun occasion and make her feel pampered during her portrait experience! She will love having beautiful pictures of herself or with her children! And you, her family, will cherish these rare, beautiful portraits of Mom or wife!
MAY 11TH & 12TH (9AM – 2PM)
PACKAGE 1: The Queen B Session $199+tax
Includes:
Pre-session wardrobe guidance call
Professional makeup and hairstyling for mama before the portrait session (light makeup for girls under 10)
20 minute in-studio portrait session with up to 5 kiddos
2 – 5×7 prints
2- social media sharing images + custom mobile app
In-studio order and reveal session so you can pick your favorites + special pricing on BONUS products like gallery wrapped canvases
OR
PACKAGE 2: The Mama Bear Session $85+tax
Includes:
20 minute in-studio portrait session with up to 5 kiddos
1 – 5×7 print
1- social media sharing image
In-studio order and reveal session so you can pick your favorites + special pricing on BONUS products like gallery wrapped canvases
What's an order and reveal session?
This is complimentary and included in each package. I believe that as a photographer my job doesn't stop after taking your photos. It's working with you to ensure you are taking full advantage of the artwork you can create with your photos. Too many times I've seen a USB or digital files be lost in a junk drawer or have clients feel overwhelm because they don't know how to display or go about producing beautiful prints for their homes.
That's why I offer a full guidance order and reveal session. Where not only we choose your favorites that were included in your package but we get to design artwork for your home. It's my job to help show you all the wondrous things you can do with your photos. Whether that be making a custom album, helping you group the best story telling images for a wall series or creating an image block for a small area in your home. There is no pressure, just guidance to show you all the possibilities and what's beyond the 8×10.
For example, you can take a photo of an area in your home you are looking to display your photos and you can actually see what your portraits would look like in your space before you invest.
Gift certificates are available as well!  Just contact me though the contact tab here on my website to purchase your gift card or schedule your session. Be sure to mention the Mini Session for this special Mother's Day Mini Session rate. You can also give me a call at the number in the image below.  Deadline to purchase this session is May 10th, 2018.
As always be sure to Like my Facebook page  to keep up with all the current events, happenings and sessions at Meghan Lee Artistry, LLC.
SCHEDULING
Schedule your session here! The session fee is required upon booking.